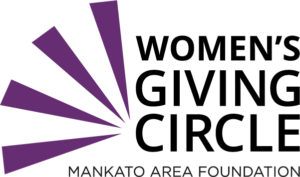 When women thrive, all of society benefits. - Kofi Anna
The Women's Giving Circle, a fund of the Mankato Area Foundation, offers an opportunity for women in our community to come together to participate in philanthropy. The Women's Giving Circle fund was established to amplify the power of collective giving by bringing together women through a local network in a purposeful way because when women and children thrive, our community will prosper.
Members contribute gifts to the fund and join together quarterly to determine where the collective dollars are granted. With no hierarchy or committee structure, the goal is to keep the process simple. The Women's Giving Circle aims to democratize philanthropy by promoting the idea that the giving of time, talent, or treasures is accessible to all of us.
As a fund of the Mankato Area Foundation, the Women's Giving Circle distributes grants to projects and programs that improve the lives of women and children throughout the Greater Mankato area.
What is a Giving Circle?
The concept is as simple as it is powerful. A Giving Circle is formed when individuals come together and pool their dollars, decide where to give, and learn together about their community, its needs and issues, and philanthropy.
Each member of the Women's Giving Circle makes an annual donation to join and gets to vote each quarter on how the funds are disbursed.
MEMBERSHIP
We believe in being inclusive and diverse in our membership in order to drive meaningful change. Although we are a women's giving circle focused on women and children, we believe that we will be more powerful by engaging men as allies, partners, and champions for gender equity, which is vital for our mission's success.
HOW IT WORKS
We meet quarterly to determine what projects and programs to support. Prior to each meeting, anyone who has made a gift to the Women's Giving Fund is eligible to submit a nomination and vote for a nonprofit of their choice. The winning organizations are then announced at the meeting.
IMPROVING LIVES OF WOMEN AND CHILDREN
Generosity. For Good.
Mankato Area Foundation President, Nancy Zallek, sat down with Women's Giving Circle Donor, Norah Finch, to discuss her experience as a donor and why the Women's Giving Circle and donating is important to her.

Contact Nancy for more information about becoming a member of The Women's Giving Circle.
Our Story
The Founders
It all began over a cup of coffee. Sharing a passion for giving back to the community, Laura and Melanie started talking of a desire to feel more engaged. They wanted to feel more connected with others in the giving of their time, talents and treasures.
Laura mentioned this thing called 'giving circles' she had come across. Melanie loved the idea. And with that the Women's Giving Circle was born. A way to gather women of all ages and backgrounds to come together in a fun and powerful way to fund projects that uplift the women and children in our community. To support them in a big way – by pooling the power of our dollars together.
Working collaboratively with the Mankato Area Foundation, who share the belief in the power of giving, the Women's Giving Circle was launched in the spring of 2019.
Laura Stevens and Melanie VanRoekel – Founders
"Women speaking up for themselves and for those around them is the strongest force we have to change the world."
– Melinda Gates
2023 Meetings
October 4, 2023
Mankato Youth Place
1315 Stadium Rd. | Mankato, MN
5:30-6:00 Social
6:00-7:00 Meeting
7:00-7:30 Social
November 29, 2023
Location TBD
5:30-6:00 Social
6:00-7:00 Meeting
7:00-7:30 Social