Our Commitment
The Mankato Area Foundation recognizes stewardship of assets entrusted to us as one of our most important responsibilities. I am proud to chair the committee that oversees the investment of assets. This committee is made up of highly qualified individuals from this area—representing the legal, investment, accounting and wealth management fields. The Foundation invests the assets so that the earnings and appreciation can be used for future grants. We adhere to high standards of operational excellence and an investment policy that is regularly reviewed, updated and approved by the Foundation's board of directors.
- Christina Bohlke, Investment Committee Chair
Investing Policy
The overall investment strategy of The Mankato Area Foundation is to preserve and enhance the charitable purchasing power of our funds over time. To accomplish this, we retain an independent investment advisor who works with MAF's Investment Committee to invest our funds pursuant to our Investment Policy. To see a copy of our Investment Policy Statement click here.
Financials at a Glance
As of November 1, 2021
Total Assets: $27.5 million
Number of charitable funds: 117
Total grants awarded: $2,025,000
EIN: 41-0011094 Form 990.pdf
For a copy of our audit, please email Tricia.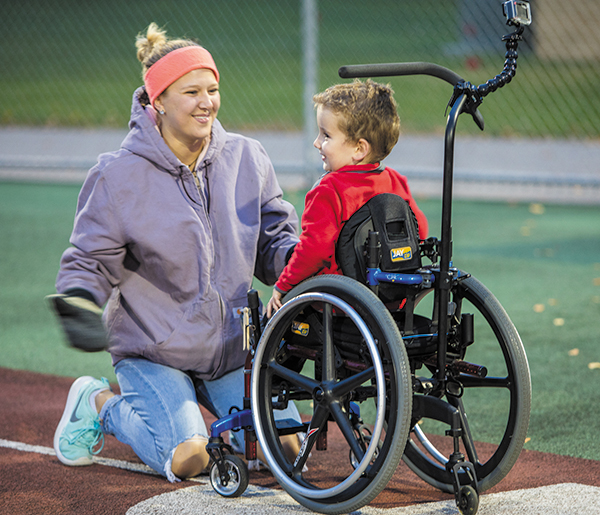 Funds We Hold
The Mankato Area Foundation continues to help individuals and organizations achieve their charitable goals by offering a variety of giving strategies and funds. Our donors have the opportunity to shape their donations by choosing from flexible funding vehicles including unrestricted, designated, donor advised or scholarship funds.
Funds that choose to remain anonymous are not listed. For more information, please see our Confidentiality Policy.
Endowed Funds
Elks Charitable Endowed Fund
O.P. and E.A. Confer Fund
Ogden P. Confer
Senior Citizen Endowment Fund
Thin Film Technology Fund
Designated Funds
Albert Fallenstein Fund
Children's Museum of Southern Minnesota
CLOVE
Community Fund for Youth
Community Response Fund
Community Vitality Fund
Curt and Debbie Fisher Fund
High School Music Recognition Fund
imagineOne Fund
Jane and Michael Kearney Fund
Jonathan Zierdt Cancer Fund
Women's Giving Circle
Corporate Advised Funds
Consolidated Communications Community Fund
Consolidated Communications Community Fund for Youth
Eide Bailly Fund
Ryan McKeown and Danielle Mehia Financial Advisory Team Community Fund
Scholarship Funds
Charles Ingman LMA Scholarship Fund
David and Michelle Schooff Scholarship Fund
Dustin Lemke Memorial Scholarship
Florence Nightingale Scholarship Fund
Marlyn R. Heintz Scholarship Fund
McKeown/Mehia Team - Opportunity Scholarship Fund
Ogden W. and Jane M. Confer Scholarship Fund
Samantha Chase Schaehrer Scholarship Fund
Virginia and Martin Krause Scholarship Fund
Agency Funds
Educare Foundation Agency Fund
Feeding Our Communities Partners Agency Fund
Living Earth Center Agency Fund
Mankato Clinic Foundation Agency Fund
Mankato Elks Lodge #225 Agency Fund
Minnesota Valley Action Council Agency Fund
United Way Planned Gift Agency Fund
VINE Faith In Action Agency Fund
YWCA Mankato Women's Fund
Fiscal Sponsored Funds
Central Freedom School
Emily's Production - Giving Dreams Fund
Greater Mankato Hockey Day Minnesota Fund
Hope in Healing
Leave A Legacy
Mankato East High School Alumni Wall of Distinction
Mankato Regional Airport Park Fund
NAACP Mankato Chapter
NicBluCares Fund
Roots, Shoots and Boots Fund
Rural Minnesota Equity Summit Committee
The Christopher Center
Donor Advised Funds
Andrew Willaert Family Fund
Andy and Christine Nessler Fund
Barbara Carson Fund
Biederman Family Fund
Bob and Linda Sanger Legacy Fund
Bradley and Kathy Brozik Fund
Brian and Mary Duehring Gifting Fund
Brian and Valerie Koch Fund
Bryan and Tami Paulsen Charitable Fund
Category One Fund
Chris Larson and Michelle May Charitable Fund
Cunningham Family Fund
Curt Fisher Donor Advised Fund
Darlene and Allen Weckwerth Charitable Fund
David Christensen and Jill Evans Fund
Davis Daughter's Fund
Dennis and Sue Hood Fund
Devenport Educational Fund
Dobson Charitable Fund
Dotson Family Fund
Elks Charitable Fund
Gene Biewen & Noel Van Tol Fund
Glen A. Taylor Donor Advised Fund
Gwesyn and Gloria Griffiths Fund
Helen and Eldon Jones Fund
Hoehn Charitable Fund
Huebsch Family Fund
James and Shannon Gullickson Fund
Jean and Tim Bye Family Fund
Jim and Jennie Ward Fund
Jim and Sheri Fedson Fund
John and Jackie Bauernfeind Fund
John and Wendy Kind Charitable Fund
Joyce and Gerald Roust Fund
Kay and Lyle Jacobson Family Fund
Kendall and Rod Meyer Fund
Kenneth and Lori Smith Fund
Lawton Family Fund
Lorentz Post 11 American Legion Fund
Maxwell Family Fund
Michael and Lisa Montag Fund
Naples Family Fund
Nathan and Sarah Kerich Fund
Page Jones Richards Family Fund
Pat and Kristin Duncanson Family Fund
Phil and Margie Slingsby Charitable Fund
Polly and Bill Webster Fund
Rstom Family Foundation Fund
Ruth and Larry Mikkelson Fund
Ryan and Jill McKeown Fund
Schooff Community Fund
Schott Family Fund
Steven and Kathleen Burnett Fund
Sugden Family Fund
Surprenant Family Fund
The Adela Rindal Foundation Fund
The Kristine Lindvall Fund
The Marian Anderson Fund
The Norland Charitable Fund
The Ten Haken Charitable Fund
Tom and Diane Lentz Charitable Fund
Veterans Memorial Fund
West Family Fund
Zierdt Family Charitable Fund