Special Projects and Programs
Throughout our history, the Mankato Area Foundation has been working closely with donors, local leaders and hundreds of nonprofit organizations to facilitate projects and programs important to the community. The Foundation provides leadership by financially supporting local nonprofits through initiatives that make a difference in our community.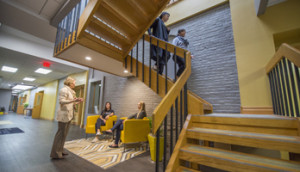 For nearly 40 years, a Center for Nonprofits had been envisioned for the Greater Mankato area community. In early 2014, the Mankato Area Foundation embraced this decades-old dream as a strategic goal and in September of the following year officially opened the doors of Shared Spaces—A Center for Nonprofit Collaboration. With a full roster of long-term tenants, the interminable goal of Shared Spaces is to increase the capacity and effectiveness of the region's nonprofit sector and philanthropic donors to support a healthy and vibrant Mankato area.
Learn More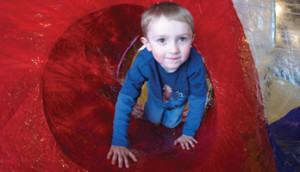 The Children's Museum of Southern Minnesota is many things: a mission, a place and an organization—but it is entirely devoted to serving children, families and the greater community. The museum's clear vision is to provide a safe and inviting place for children to play, learn and grow. As of May 1, 2015 the Children's Museum of Southern Minnesota officially opened the doors of its newly transformed and permanent location. With this innovative location the museum seeks to ignite the natural curiosity of every child through the power of play in a dynamic, awe-inspiring environment.
Learn More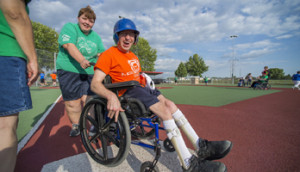 Fallenstein Field, named after the late Al and Erla Fallenstein, is a handicapped accessible baseball field located in Caswell Park of North Mankato. Completed in July 2008, this unique Miracle League field features a rubberized surface conducive to wheelchair use as well as a scoreboard, lights and spacious dugouts. Fallenstein Field provides opportunities for children and adults of all abilities the opportunity to actively participate in America's favorite pastime.
Learn More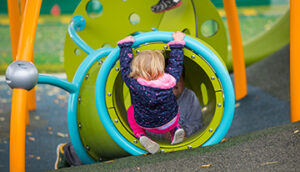 Fallenstein Playground
In providing children of all abilities the opportunity to play, we all benefit. That is the goal of Fallenstein Playground, an all-inclusive playground where everyone will be able to enjoy a sense of welcome and belonging without being held back by the obstacles they may face in everyday life. To be housed at Caswell Park of North Mankato, home of the North Mankato Miracle League, this park will provide an environment where children, families, and our community can come together and grow.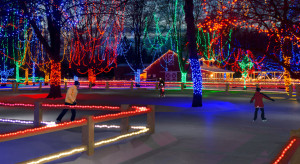 Kiwanis Holiday Lights is a free to the public, volunteer driven event featuring over one million LED lights decorating Sibley Park in Mankato, MN each year throughout the holiday season. The event includes features such as horse drawn carriage rides, Santa's Workshop and live reindeer on display for the duration of the event. The mission of Kiwanis Holiday Lights is to create a celebration of Holiday Lights for the Greater Mankato Area that builds on past traditions and promotes the communities they serve, while raising non-perishable food donations for those in need.
Early on Kiwanis approached MAF as a lead sponsor in order to generate interest within the rest of the community. Thanks to the Al and Erla Fallenstein Fund of the Mankato Area Foundation, which was established to specifically fund parks, we were able to make a substantial grant to the project. Already having a history of funding projects in Sibley Park, a favorite of Erla Fallenstein's, the holiday lights project also combined her love of decorating for the holidays. The Fallenstein Family could not imagine a better match to honor her two passions.
Learn More

Hockey Day Minnesota
Hockey Day Minnesota originated in 2007 by the Minnesota Wild to celebrate the game that has made Minnesota the State of Hockey. Awarded to Mankato by the Minnesota Wild and Bally's Sports North (BSN), we hosted the 16th anniversary of Hockey Day Minnesota in January 2022. Held for the first time in Southern Minnesota, this iconic event took place at Minnesota State University (MSU), Mankato, Blakeslee Stadium.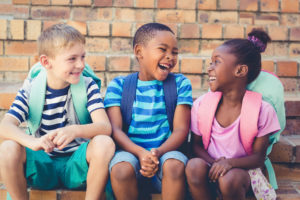 "MY Place" Mankato Youth Place, opened in October 2018 as Boys & Girls Club of Mankato. In the fall of 2019, they began a transition to MY Place. The name is a reflection of community and youth engagement and ownership of the space. MY Place provides youth with programs to support success in school, a healthy lifestyle, and character and leadership skills to prepare them to become contributing community members. Their mission is to empower all young people to reach their full potential. Learn More
Learn More

Recharge Mankato is working to establish Greater Mankato as a leader in efforts aimed at ushering a new era for community mobility centered on the promise of advanced technology electric vehicles, of all types.
Learn More
Telling Our Story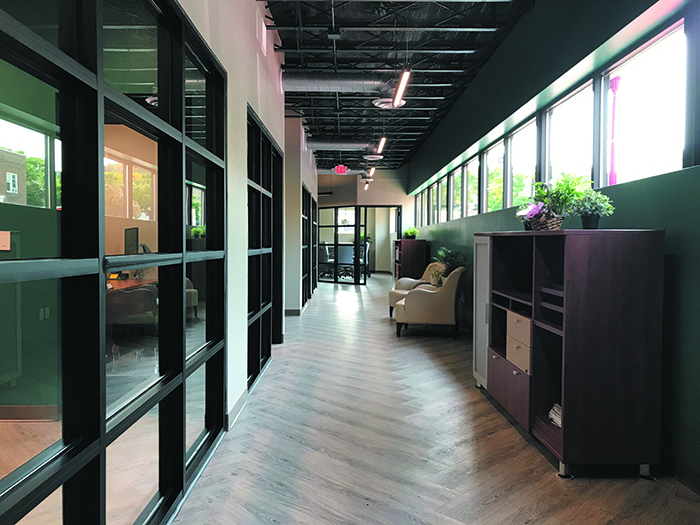 Shared Spaces Philanthropy Center
A Home for Philanthropy
Nancy Zallek never anticipated her job would involve endless conversations about plumbing, flooring and electrical wiring.
It wasn't really in her job description, but that's just what happens when you build and later expand upon a successful nonprofit center. "I now know more about HVAC than I ever cared to," Zallek said, laughing. "But it's all for a great cause."
Zallek's foray into the world of property renovation and management began back in 2012. During a Mankato Area Foundation (MAF) Board of Directors retreat that year, the board made it part of the Foundation's strategic plan to lead the concept of creating a nonprofit center in Mankato—if and when the right space became available. Learn More