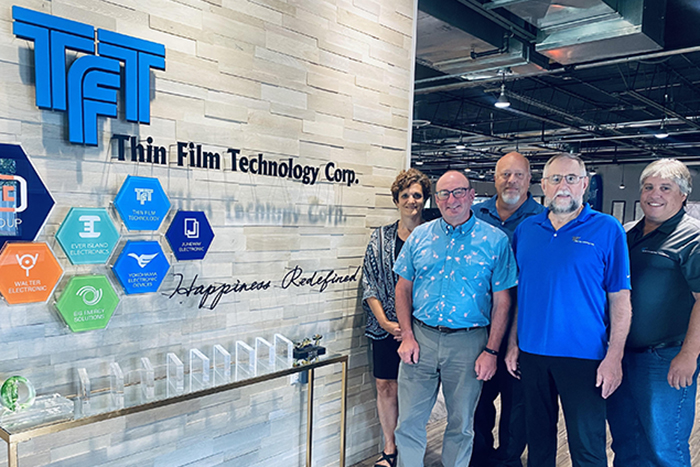 Corporate Advised Fund
Thin Film Technology Corp.
Mavericks of Philanthropy

It only takes a quick walk-through Thin Film Technology Corp (TFT)'s remodeled office space in North Mankato to see just how much the company's leadership invests in its employees. From large updates like easy access to the CEO's office, to small gestures like birthday cake in the breakroom, it is clear the company cares about the individuals who work there. And that level of care reaches far beyond the walls of the company's offices, says CFO Tom Lietha.
Thin Film Technology is a leading-edge solution provider of high performance, passive electronic components—servicing a wide range of industries from automotive to medical and military. And while their business serves the global market, their focus on philanthropy has always remained local.
"Once the company took off in the '90s, we knew we wanted to make a big impact in the community," Lietha said. "Since the company was incorporated, we had always done a little bit in terms of making donations or supporting local projects, but we always knew we wanted to have a more coordinated effort."
The company's leadership, including Lietha who was CEO at the time, contacted Mankato Area Foundation (MAF) to set up a corporate advised fund in 2001. And while MAF has nearly 70 donor and corporate advised funds today, this was a new concept for the foundation at the time. By creating a corporate advised fund, TFT was able to establish a significant giving plan toward causes they cared about without jumping through the hoops of creating their own charitable foundation from scratch.
"We had looked into creating our own foundation, but we quickly realized just how overwhelming it would be by the time you go through all the legal and regulatory processes," Lietha said. "If there is a local organization who has the expertise to manage it for you, why not let them help you?"
At the time, MAF was an entirely volunteer-run organization with less than 1 million in assets. Today their assets exceed 27 million. Looking back, the current president and CEO of MAF Nancy Zallek is impressed with the trust and foresight TFT had in the Foundation.
"They trusted a local group with their million-dollar fund, which is pretty amazing," Zallek said. "The leaders at TFT clearly grasped the mission and vision of our foundation, and they knew how mutually beneficial a fund like this could be."
According to Lietha, that level of confidence came from the relationship TFT developed with MAF's board of directors.
"They had been doing a great job, and they had been working hard," Lietha said. "We felt they had the right momentum, energy, and attitude toward doing the right thing in the community, and they have proven that to us time and time again for over 20 years."
TFT chose to establish a fund dedicated to supporting science, technology, engineering, math, and education in the Mankato region. According to Mike Howieson, the current CEO of TFT, it has always been important to TFT that their philanthropy stays in the community.
"We love that through MAF, the money stays local," Howieson said. "It allows us to keep a close relationship and to stay connected to the impact our fund makes."
Since the TFT fund was established, it has supported MNSU's annual Science & Engineering Fair for elementary students, local robotics teams, the Children's Museum of Southern Minnesota, girls' computer coding camps, hundreds of thousands in college scholarships to local engineering programs, and much more.
According to Lietha and Howieson, TFT has been proud to be involved in all of these projects. These two leaders are especially proud of the college scholarships, however
"To be able to give scholarships to people who have a beautiful mind and talent, and to help provide the opportunity for them to grow their dreams and education--there's just nothing better than that," Howieson said.
Lietha agrees.
"It's a good feeling to know you have contributed toward building the skills of people who are really going to make a difference in the world," Lietha said. "It's really amazing to see that coming from your efforts and your funds."
There is arguably a strong return on investment with TFT's scholarships, as all of the company's engineers have graduated from Minnesota State University, Mankato, many of whom benefited from TFT's scholarships.
"This fund has helped us develop a great relationship with the university and its engineering program," Howieson said. "The scholarships often turn into internships with us, which often turn into great careers for students and great employees for us. It's a wonderful thing for everyone involved."
Lietha served on the MAF board of directors for around ten years, and he remained closely involved with the work of the TFT fund during that time.
"I loved working with the foundation, but there came a point in time where there wasn't really a need for me to be there from a Thin Film standpoint," Lietha said. "Our fund was being so well run and all the pieces were in place. MAF understood the impact we were trying to make, so we essentially handed the keys to the Foundation; they took our cause forward, and I think they have done a terrific job of it."
According to Zallek, this is often donors' favorite part of creating an advised fund with MAF.
"We work closely with donors and businesses to develop a deep understanding of their charitable giving goals, and we do our best to honor that intent," Zallek said. "They trust us to research the needs of our community and to determine how their desires as a donor can fulfill those needs."
While TFT might be considered a philanthropic trendsetter thanks to their decades-long relationship with MAF, they encourage others to follow suit. "I urge anyone thinking of creating a strategy for their charitable giving, to sit down with MAF and talk to them about your goals. I strongly suggest they do their giving through MAF. It's convenient, it's well organized, the policies are in place. The policies they have in place will ensure they will continue to do well." Lietha said.
"Our goal with the TFT fund is to have the foundation continue doing exactly what they're doing," Lietha said. "There will always be a need for support in local STEM education. That was the original goal of the fund, and it remains today. And we trust MAF will continue to see our goals through for a long, long time."
To learn more about establishing a Corporate Advised Fund, go to mankatoareafoundation.com/donors/corporations.