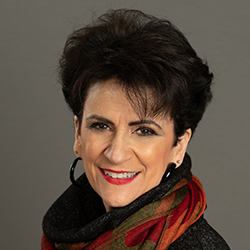 President and CEO
nancy@mankatoareafoundation.com
507.344.7265
Nancy Zallek is the president and chief executive officer of Mankato Area Foundation (MAF) and an advocate for our local nonprofits. Nancy dedicates herself to building a community of individuals who believe in the strength of giving while supporting the work of the nonprofit sector.
Since joining MAF in 2009, Nancy has grown the foundation's assets from $2M to over $30M and annual granting from $50,000 to over $3.5M. Such growth has led to large-scale community initiatives, such as The Children's Museum of Southern MN, Kiwanis Holiday Lights and the Fallenstein Field and Playground, as well as increased scholarship opportunities for local students. Nancy also led the strategy to create and design the Shared Spaces nonprofit center, a collaborative workspace for regional organizations and their leadership teams.
What Nancy values most of all, however, is the relationships she builds with people in our community. As she puts it, "Every day I get to connect thoughtful donors with incredible organizations and causes – it doesn't get better than that."
The fifth generation of her family to grow up in Mankato, Nancy graduated from Mankato West High School and Gustavus Adolphus College. After graduation, she joined Brett's Department Stores – eventually serving as Vice President. She transitioned into the nonprofit sector as executive director of Mankato Ballet Company, and executive director of the United Way of St. Peter – prior to joining MAF.
Nancy is proud to have volunteered for wonderful organizations such as the Mankato Clinic Foundation, Greater Mankato Growth, Gustavus Adolphus College, First Presbyterian Church, Twin Rivers Council for the Arts, the Mankato Ballet Company, and the St. Peter School District.
She is married to her husband Mark and has three really awesome kids (though she may be a bit biased): Taylor (wife Annika), Bailey (husband Nick), and Brett (wife Hannah), and grandaughter Brett.