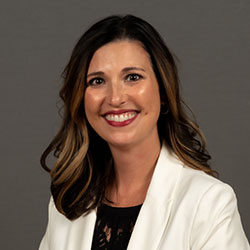 Vice President of Philanthropy
ashley@mankatoareafoundation.com
507.344.7269
Ashley Eimer is the vice president of philanthropy for the Mankato Area Foundation. She is a passionate fundraising professional who believes in transformational philanthropy by building relationships and connecting donors to causes that are meaningful to them.
Ashley most recently served as the Director of Development for the College of Science, Engineering and Technology at Minnesota State University, Mankato. Her efforts raised over $9M for scholarships, research, and programming support in less than five years.
Committed to ethical and accountable fundraising practices, Ashley is a Certified Fund-Raising Executive (CFRE). She received a Certificate of Fundraising Management (CFRM) and a Graduate Certificate in Philanthropic Studies from the Lilly Family School of Philanthropy at Indiana University – Purdue University Indianapolis. Her undergraduate degree in communications is from Waldorf University in Forest City, Iowa.
A lifelong resident of Southern Minnesota, Ashley lives in North Mankato with her husband, Brian, and two sons, Weston and Declan.