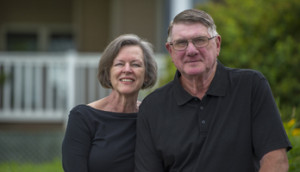 Jim and Kathryn Vonderharr
A Plan They Can Live With
How a donor-advised fund helped Jim and Kathryn Vonderharr plan their estate—and finalize their will.

Jim and Kathryn Vonderharr laugh that during their 22 years of marriage, they've updated their will dozens of time. But the couple is fairly sure that they won't need to change it again, now that they've set up a donor-advised fund with the Mankato Area Foundation.
"We shouldn't have to change our will again," Jim says. "Now, we just have to call Nancy if we want to discuss something."
Nancy Zallek, the executive director of the Mankato Area Foundation, helped the Vonderharrs simplify their estate planning with the donor-advised fund. She worked with them to designate the beneficiaries of their estate—which include St. Cloud State University, from where they both graduated, as well as Minnesota State University, Mankato—and to create guidelines for the dispersal of their funds when they are gone.
"Nancy spent a lot of time getting to know us and our interests," Jim says. "She really helped us discover our focus for the fund."
"We felt fortunate that we could structure it any way we wanted to," Kathryn adds, "but with a lot of advice."
The decision to work with the Mankato Area Foundation came after a friend recommended that the Vonderharrs work with the Central Minnesota Area Foundation to establish a gift for St. Cloud State University; that foundation in turn directed them to the Mankato Area Foundation. After discussing their plans, the Vonderharr's decided that it made the most sense to work primarily with their local foundation, which could distribute the funds in any direction the Vonderharrs wished.
"It was much a more efficient solution, long term, for the use of the funds," Jim says.
Meeting with Zallek helped the Vonderharrs think about the legacy they wanted to leave. She got together with them over a period of time and helped them lay out their ideas and then talk them through. That process allowed them to carefully consider what they wanted to focus on.
"Education is very important to both of us," Kathryn says. "But we didn't want to just put a big chunk of money into scholarships. We wanted money to go to students and professors and their projects."
At both St. Cloud State and Minnesota State Mankato, the couple identified five areas of interest that the funds could be used for. Professors would be able to make requests for funding for specific projects, and the Foundation will decide if it fits the criteria. "It allows for more flexibility on the recipient's end," Jim says. "We're charging the Foundation with the responsibility of deciding who gets the funds."
In addition to the universities, they have provided direction about other organizations they'd like their fund to support—including community art efforts and initiatives that benefit women. And if another issue becomes a priority to them, they can just call Nancy to let her know.
"It's been a very easy, satisfying experience," Kathryn says. "There's been no pressure at all."
"Now," Jim adds, "we hope to help others make the same decision."