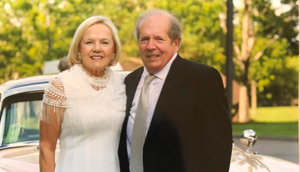 Jane and Ogden W. Confer
Investing in Future Generations
Jane and Ogden W. Confer established an endowed scholarship fund in the 1990's that is still making a difference today.

In an interview with Jane and Ogden W. Confer, they made it clear that they have deep roots in Mankato and a strong connection with the Mankato Area Foundation (MAF). In 1974, Ogden's father (Ogden P. Confer) was a founding board member of our community foundation. In 2015, MAF recognized their family's long-standing dedication to local philanthropy by naming a community room in honor of Ogden P and his wife, Betty, in MAF's Shared Spaces—a Center for Nonprofit Collaboration. In addition to years of devoted volunteer service, Ogden P and Betty ensured their legacy to this community through the bequest of an endowed fund to MAF—a fund that continues to support grants to community initiatives.
Following that example, Jane and Ogden W. Confer have also been dedicated volunteers for the Foundation, each serving as board chair when MAF was still an entirely volunteer-run organization. They, too, have chosen to give back to this community through MAF, with an endowed scholarship fund to support local students choosing a liberal arts education.
Jane and Ogden W moved to Minneapolis 20 years ago, but their dedication to Mankato remains strong. Historically, Mankato is where Ogden's family grew their business, and Jane says, "I do feel an obligation to continue that investment in years to come."
Jane is especially passionate about the types of projects that MAF is involved with. "The investment in children, young adults, educational and recreational opportunities are where I am most pleased to see the money go," Jane says, "to programs that enhance the life and growth opportunities for youngsters."
The Foundation has made it easy for the Confers to make a difference for generations to come. "It's great to be able to put money with an organization that's going to long outlast you and to be able to say what your objectives are," Ogden W says. "Our scholarship fund is a perfect example of that. We got to say what the parameters and qualifications would be, and once that was set, we didn't have to do anything else—it's the beauty of working with the Mankato Area Foundation."