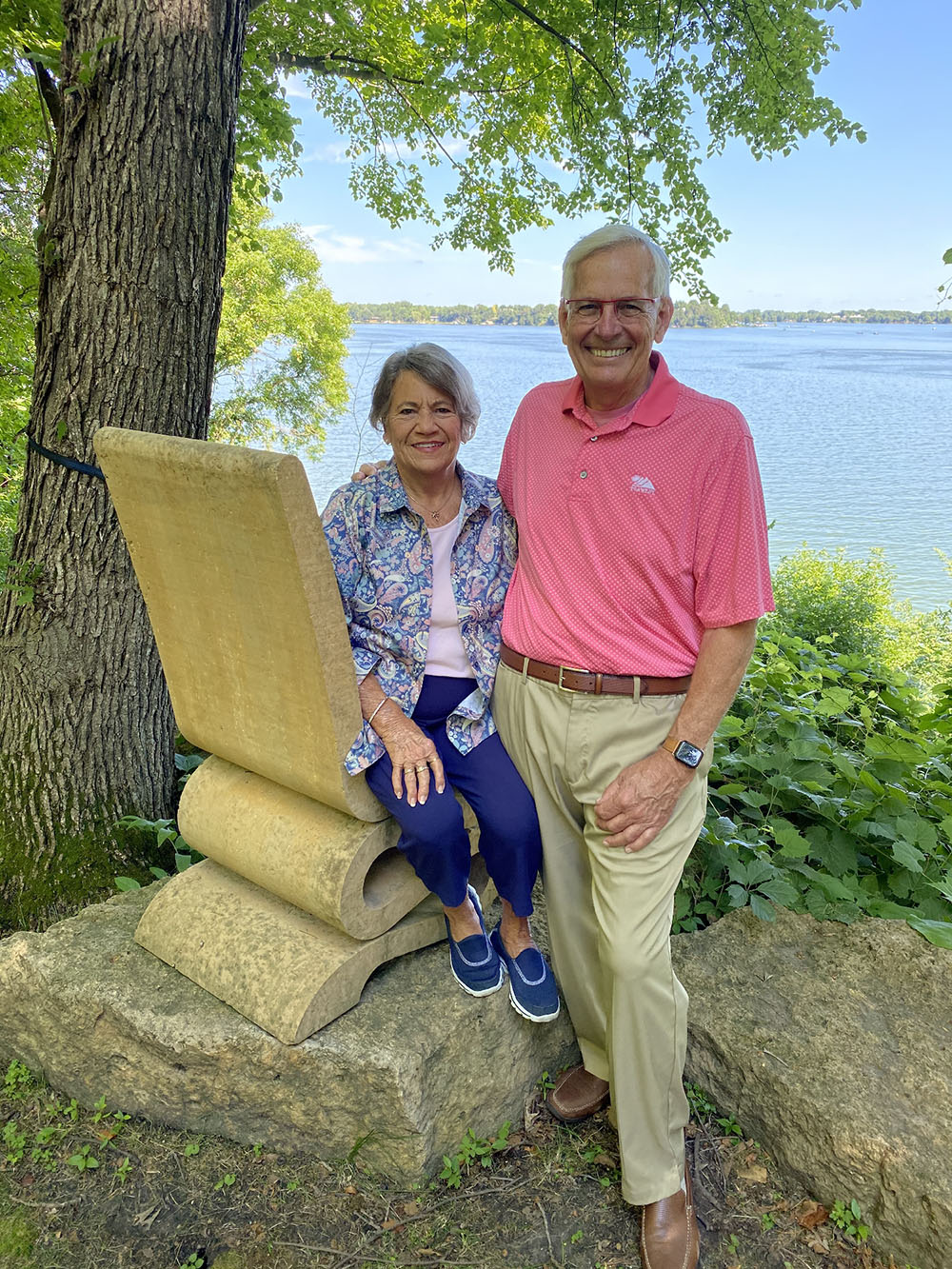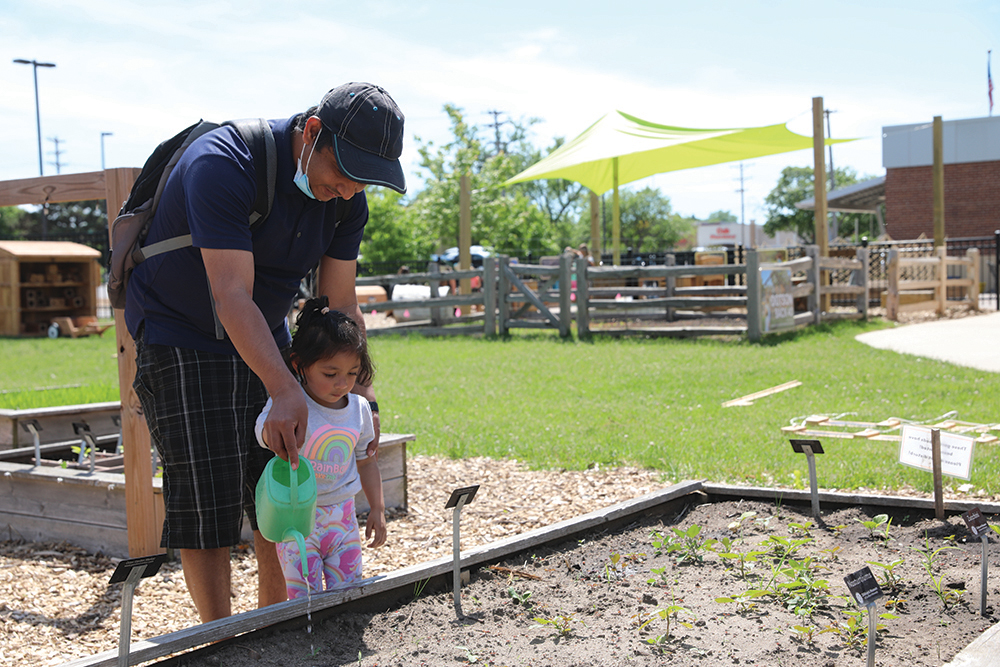 Donor Advised Fund
Denny and Carole Dotson
An Iron Will

After decades of running an internationally-renowned business and contributing countless significant financial gifts to the community, one might expect Denny Dotson, owner of Dotson Iron Castings, to be a bit of a self-taught fiscal mastermind. But Dotson always credits his childhood friend-turned-attorney, Jack Regan, with the best financial advice he has ever received.
"Estate and will planning are incredibly difficult and emotional," Dotson said. "When you're writing a will, you don't know if you are writing something for three, 10 or 20 years down the road. Plus, you want to donate charitably, but there's also concern for your children and grandchildren. How do you even begin to balance all of that?"
According to Dotson, Regan provided a remarkably straightforward answer to this common conundrum.
"Jack looked at Carole and me and said, 'You grew up in Mankato, and you benefited from this community,'" Dotson said. "'So why don't you treat Mankato as an additional child? You have four kids, but treat this community as your fifth.'"
And with that idea in mind, Dotson's philanthropic goals have been simplified and solidified ever since.
"It's easy. Our will says that 20% of whatever we have left will go to this community via the charitable experts at Mankato Area Foundation," Dotson said. "And I give that same advice to anyone who will listen."
That being said, anyone who knows Dotson knows his philanthropy has never been limited to what will happen after he's gone. In fact, Dotson is the first to say he gets the most enjoyment out of taking risks and giving to the newest and most innovative projects happening in the community right now.
"I like to invest money in things that might not succeed," Dotson said. "It's important to take risks. Because if or when those projects do succeed, they provide a remarkable benefit."
Coming from the for-profit business world, Dotson sees a vast disconnect in the mentalities of venture capitalists and philanthropic investors.
"Angel investors are always gambling," Dotson said. "They know not all of their investments are going to be home runs. So why don't we give nonprofits that same level of support and permission to take risks? After all, that's where the real innovation happens."
Dotson has gotten in on the ground floor of innumerable projects and causes in the Mankato region, primarily through the donor advised fund he and his wife Carole established several years ago at Mankato Area Foundation.
According to Nancy Zallek, president and CEO of Mankato Area Foundation (MAF), Dotson has been a maverick and a remarkably influential supporter of the Foundation's work for decades.
"Whenever we have or are approached with a new and exciting idea, Denny is one of the first people I call," Zallek said. "And not only does he support the ideas; he is usually the one to tell us to think even bigger."
Some of these projects include (but are not limited to) helping establish the Children's Museum of Southern Minnesota, funding the Mankato Youth Place (MY Place), developing the Shared Spaces nonprofit center made available to numerous local and regional organizations and building the Mary Dotson Skating Rink in honor of his mother.
"I strongly believe that giving should be fun," Dotson said. "And giving in Mankato is always fun."
Ironically, the adolescent Denny Dotson never anticipated he would end up living in Mankato, let alone running his family business.
"I desperately tried to get out of Mankato," Dotson said, chuckling. "I went to Notre Dame for college, then the University of Chicago for an MBA and then I joined the Navy. I thought I had left for good."
But after an economic downturn and an offer from his father to work at Dotson Iron Castings, Dotson and his wife shifted gears to return to their hometown. And according to both, they are forever grateful to have landed back where their roots developed.
"I have been fortunate enough to travel all over the world through my work, and boy, there is just no place like Mankato," Dotson said. "This is a community of relationships, of innovation and of people stepping up to make things happen. In my 50+ years of being back here, I am not aware of a single project that ought to have happened that did not happen."
Dotson credits long-time community donors like Fred and Diane Lutz or Lyle and Kay Jacobson for promoting positive philanthropic peer pressure in the region to get things done.
"When Freddy calls, you always pick up," Dotson said, laughing. "He is a competitive giver, if there ever was such a thing, and I try my best to keep up with him."
According to Dotson, Lutz helped shape Mankato Area Foundation into what it is today.
"Freddy was one of the first to acknowledge the need to fund and hire a paid director of the Foundation," Dotson said. "He told me, 'We need to make this happen, so let me know how much you're going to contribute.' And to this day, it was one of the best investments I ever made."
When asked to describe how MAF makes philanthropy function for him and his family today, Dotson replied with one word: "Easy."
"I can so confidently trust the Foundation and its staff to be aware of what's happening and what the needs are in the community, as well as how those needs change over time," Dotson said. "They are involved in absolutely everything. Between all of that and the extraordinary back office support, MAF makes philanthropy easy. And when it's easy, it's extra fun."
This is also why Dotson trusts his long-term planned giving to be managed by MAF.
"I can't predict what the needs of the community will be 30 or 40 years from now, but the Foundation will always be adapting and responding to those needs," Dotson said. "Between their staff and our kids' future involvement in managing our donor advised fund, we can trust that our gifts will continue to be put to good use long after we're gone."
Although Dotson has donated high dollar amounts in his days, he firmly believes that financial gifts are not the sole resource for innovation.
"Any successful initiative requires three components: time, talent and treasure," Dotson said. "And at any point in your life, regardless of your financial situation, you can find some way to give back through one of those avenues."
"Look at the countless hours the volunteers and local moms dedicated to making the Children's Museum happen," Dotson continued. "Or the work Nancy [Zallek] put into collaborating with so many entities to establish Shared Spaces. Funding is essential, but Mankato has proven time and time again that all types of talents are required to make a great idea come to fruition."
So when asked about the advice Dotson gives to those trying to determine their own unique ways to give, he returned to the wisdom of Jack Regan.
"Every parent wants their kids to have all their needs met and to live happy and healthy lives," Dotson said. "So what if we all treated our community with that same level of care? Personally, I think the results would be pretty gosh darn magical."