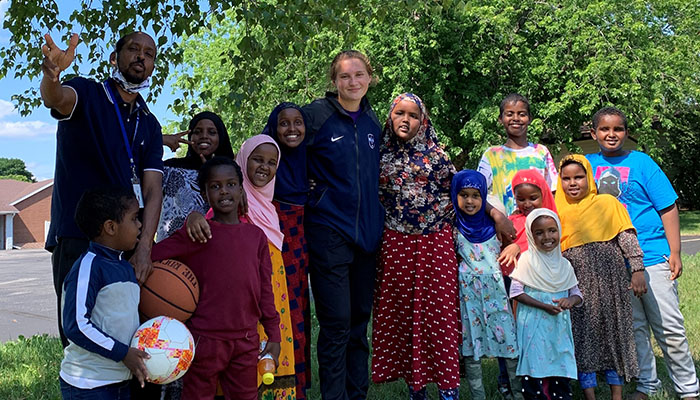 Building Connections
It Takes A Village
'Hikmah' means 'wisdom' in Somali. We call it Hikmah because we want to see and encourage the wisdom of children.

On any given day, it's nearly impossible to find Mohamed Abdulkadir at home. He begins his workdays at MRCI in Mankato, where he fulfills his duties as a Refugee Employment Specialist, connecting refugees with employers and other resources in the region. In the evening, Abdulkadir checks in with his friends at the Islamic Center in St. Peter. There, he oversees the center while managing Hikmah—a tutoring program for PreK-12 students. Abdulkadir waits until the day's participants have finished all their assignments and asked all their questions before closing the building's doors and heading out, usually around 8 or 9 PM.
"I'm not home much, but at least I'm never bored," Abdulkadir said, chuckling.
Then again, "home" has had many meanings for Abdulkadir throughout his life. He grew up in Somalia until 1990 when rebels overthrew the government of his home country, launching a civil war. Abdulkadir fled to a refugee camp in neighboring Kenya, where he lived every day with fear and uncertainty about his family's future. Four years and two refugee camps later, he was approved to come to the United States, landing in Decatur, Georgia. It would take another
seven years before Abdulkadir's wife and children were allowed to join him in the U.S., and another three years before he and his family
moved to Minnesota.
"I have now spent the two halves of my life on two different continents—the first half in Africa, and the second in North America," Abdulkadir said.
The tumultuous experiences that brought Abdulkadir to Mankato allowed him to empathize with other refugees and immigrants in the area. This led to his job at MRCI, where he has been employed for over 16 years, and it acted as his inspiration to open the first Islamic community centers in Mankato and Saint Peter. In 2018, Abdulkadir took his passion for community engagement further by founding Hikmah, an independent nonprofit organization.
"'Hikmah' means 'wisdom' in Somali," Abdulkadir said. "We call it Hikmah because we want to see and encourage the wisdom of children. They can use their wisdom to change the world, and we can follow their lead."
The St. Peter Islamic Center serves as a community space for anyone who wants to meet, pray and make community connections. The Hikmah tutoring program is housed within the same building and is open to all children seeking tutoring. Originally geared toward older students, Hikmah recently expanded to serve preschool and kindergarten-aged children. On any given day, Abudlkadir and his staff might work with a child learning the alphabet to a student working on her college applications.
"I truly believe that education is the key to opportunity and success, but it is not an individual endeavor," Abdulkadir said. "When even one child fails, the whole community has failed."
Hikmah was a hit from the start, but its immediate success and subsequent growth quickly pushed Abdulkadir and his team of volunteers beyond their capacity. Once the program needed consistent funding to cover the costs of rent, curriculum supplies and teacher salaries, Abdulkadir reached out to Sarah Beiswanger, Mankato Area Foundation's (MAF) Community Grants and Nonprofits Specialist.
"Once I learned about the Mankato Area Foundation, everything opened up to me," Abdulkadir said. "Before I discovered the Foundation, I wasn't sure I could keep my doors open for much longer. They helped me not only survive but grow."
After learning about their specific needs, Beiswanger connected Abdulkadir to other foundations and nonprofit resources she knew would help Hikmah achieve its goals. MAF has continued its partnership with Hikmah over the years, and Abdulkadir meets with Beiswanger regularly to discuss the organization's goals and needs.
"Whenever I tell Sarah about something I am working toward, she helps me find a solution," Abdulkadir said. "Money, furniture, books, food—whatever we have needed, she has helped connect me with the right resources."
Beiswanger takes pride in keeping her finger on the pulse of the community, allowing her to help the organizations MAF serves in meaningful ways.
"People often think of the Foundation as a source of funding, which it is, but we find many ways to support our sector," Beiswanger said. "There's nothing I love more than connecting nonprofit organizations with the resources they need."
This relationship has helped Abdulkadir realize his dream of starting a tutoring program. Still, he does not plan to stop there.
"The immigrant and refugee community is so resilient, but there is no denying we lack resources," Abdulkadir said. "I want Hikmah to help fill that gap. I am always thinking about tomorrow, the day after that, and the day after that."
Perhaps Abdulkadir's focus on the future stems from his own experiences with uncertainty.
"While we might not know exactly what's going to happen tomorrow, we do know we can take care of our children today," Abdulkadir said. "I am so grateful to the Mankato Area Foundation for helping us make that goal a reality."