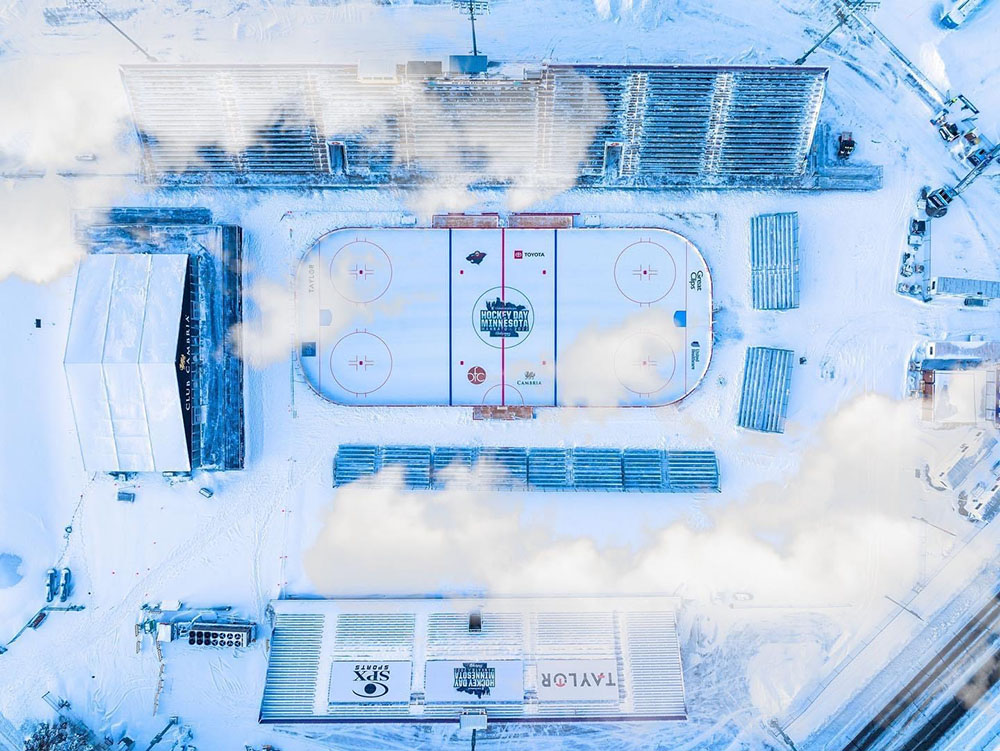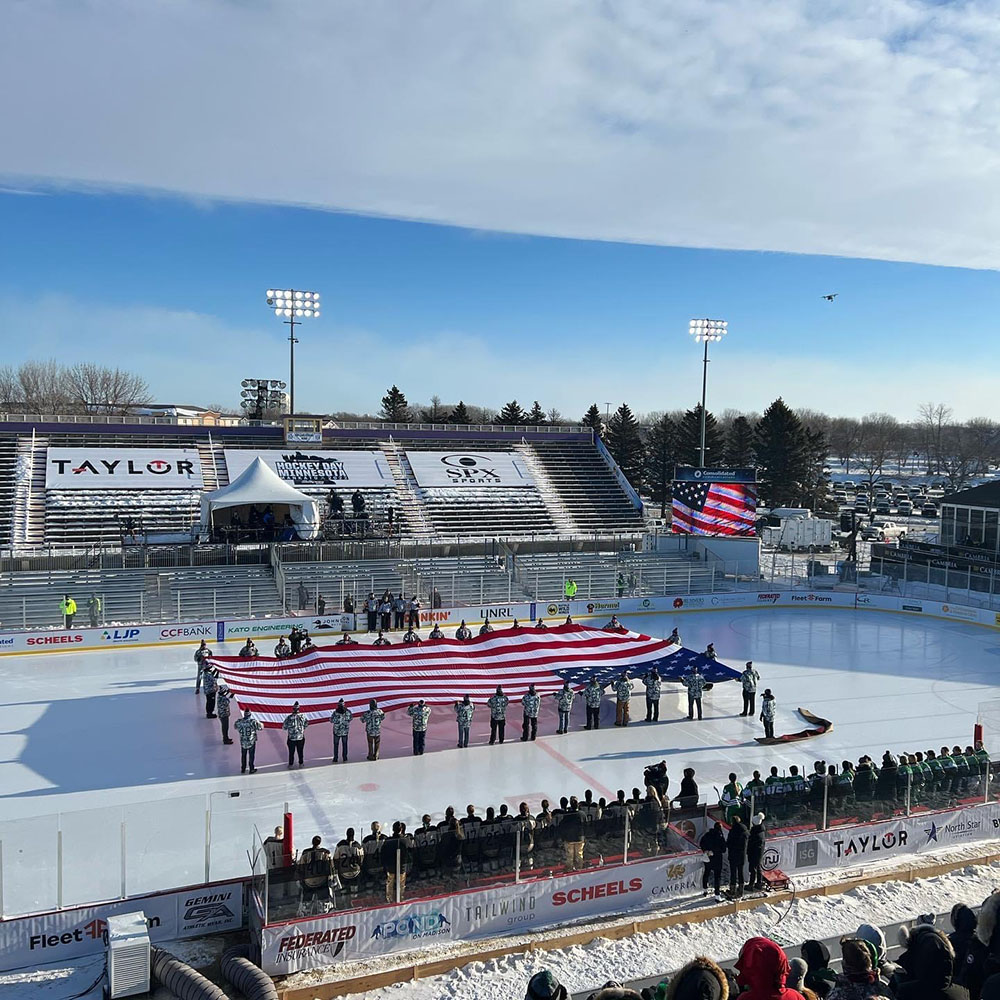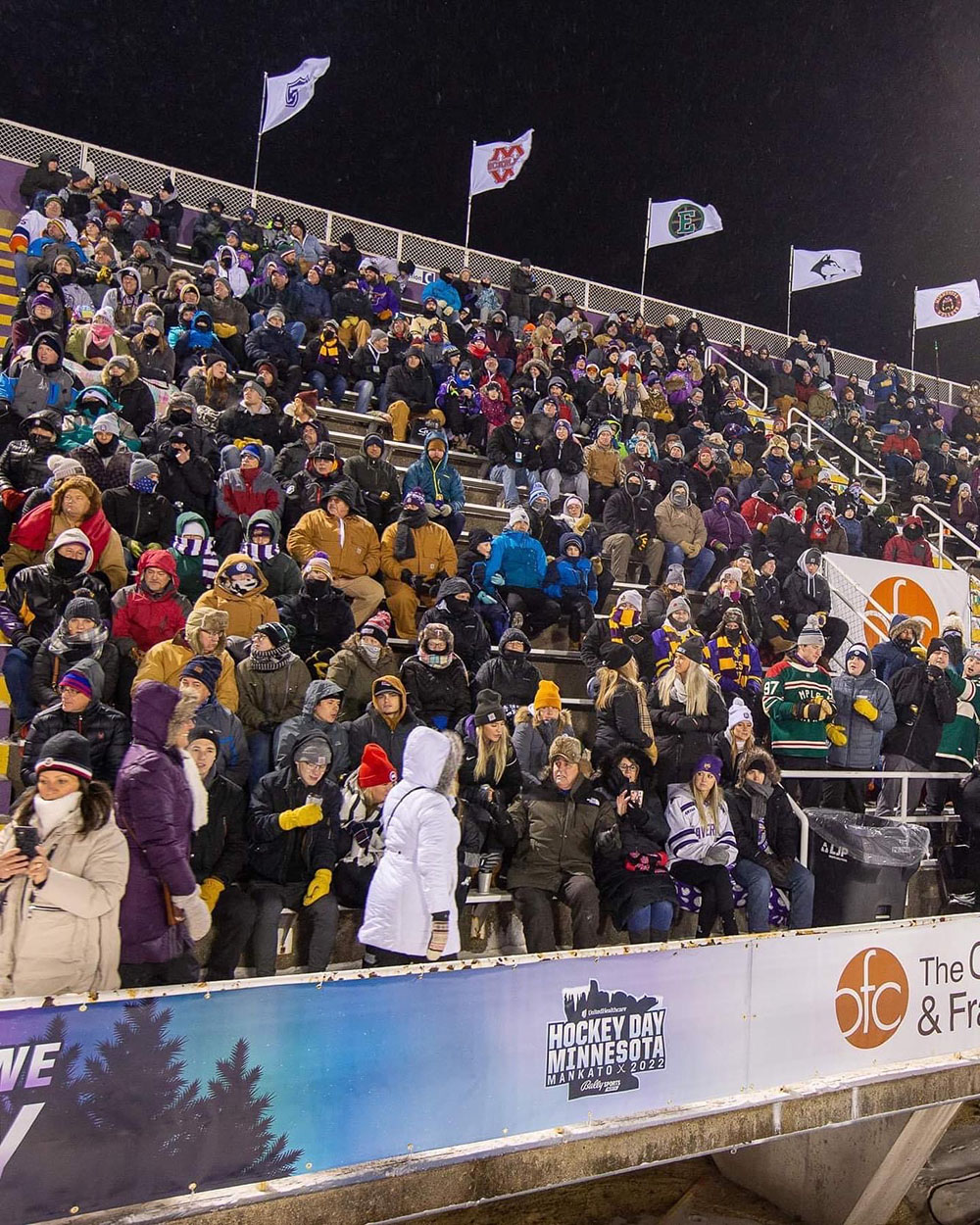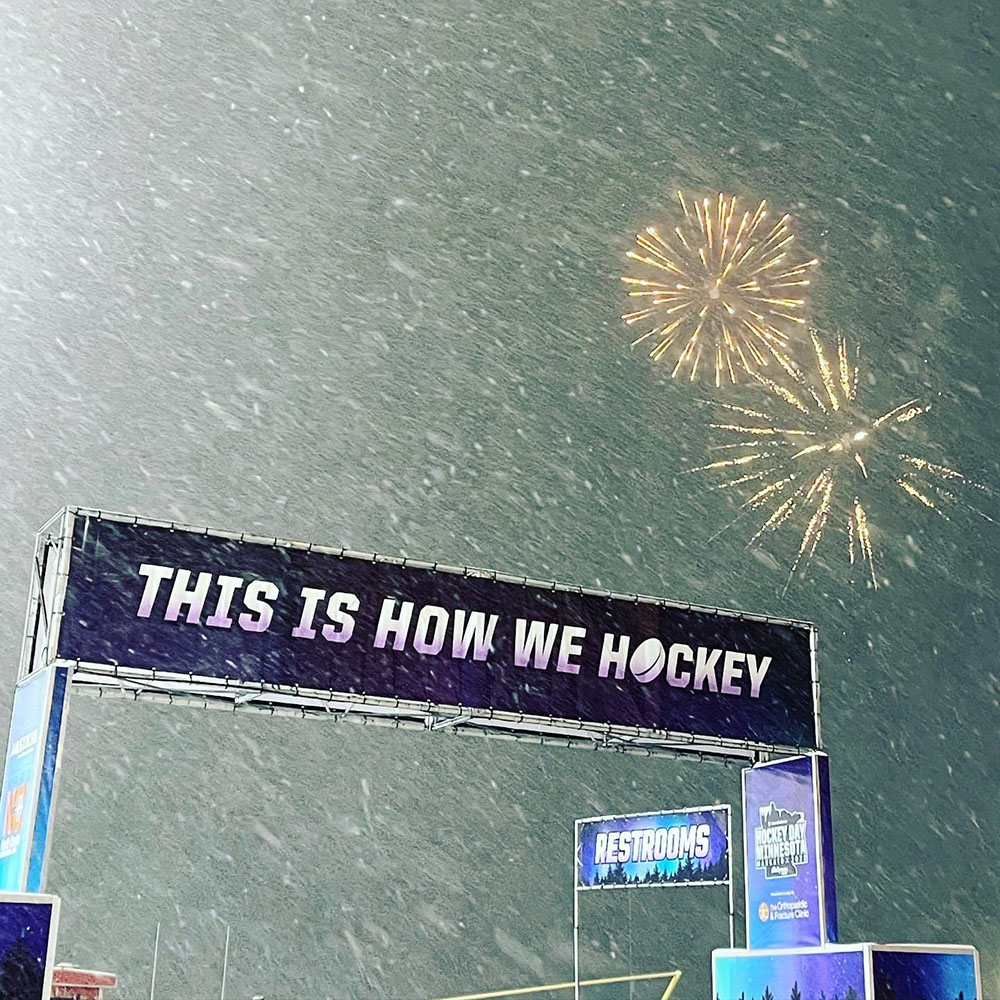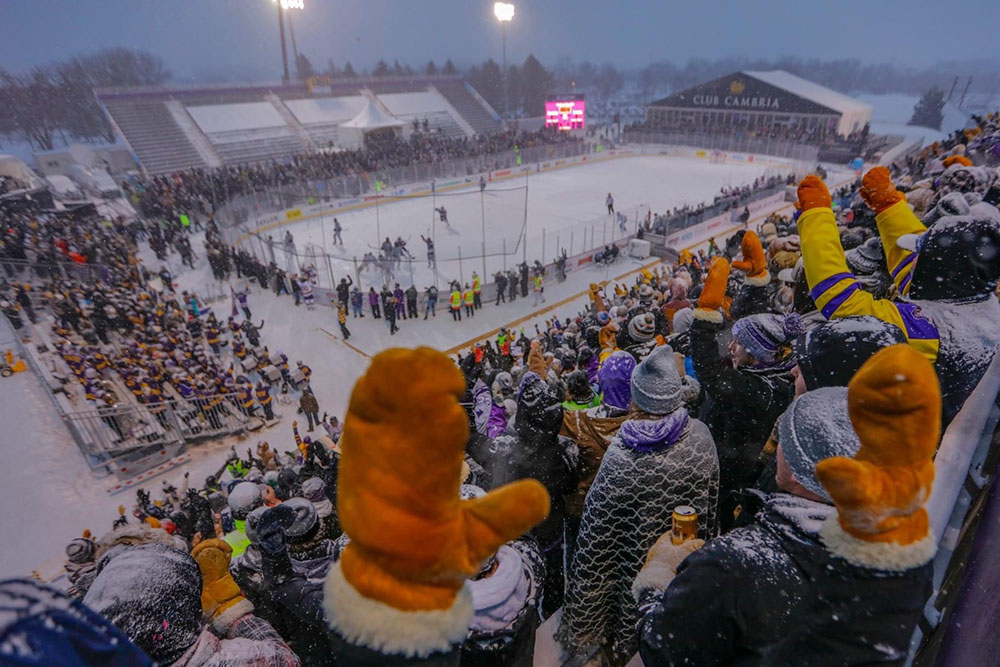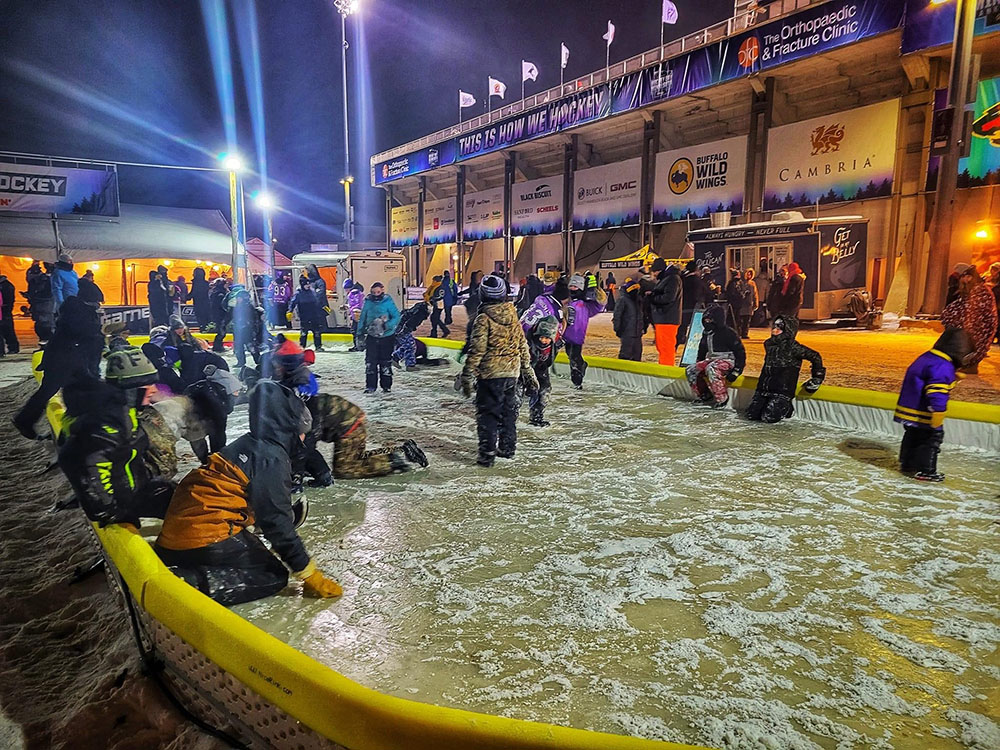 Fiscal Sponsorship
Hockey Day Minnesota 2022
Minnesota nIce

It is common to hear whistles blowing and fans cheering at Minnesota State University, Mankato's Blakeslee Stadium, the home of Maverick Football. But in the middle of January? Now that was a first.
Such was the case when the puck dropped during Hockey Day Minnesota 2022 at the temporary outdoor ice rink sitting atop Blakeslee Field. Hockey players and fans from across the state gathered to watch, cheer and play during the State of Hockey's annual celebration of their favorite sport.
"I love the game of hockey, and this was an amazing opportunity for the greater Mankato community," said Missy Bradley, treasurer of the executive committee for the Hockey Day Minnesota Local Organizing Committee. "That's why I got involved. What better way to showcase our community, its people and its businesses than to bring in over 22,500 spectators in one week?"
You read that correctly—one week. Hockey Day Minnesota, developed in 2007 by the Minnesota Wild, was intended to be a one-day annual celebration of the sport in a different Minnesota city each year. In 2019, Bemidji raised the bar by hosting it as a two-day event. As the first-ever host city south of Minneapolis, Mankato broke multiple traditions by having Hockey "Day" extend from January 16th to the 23rd.
"We thought to ourselves, 'Wouldn't it be amazing to have every player from the local high schools and the Mankato Area Hockey Association (MAHA) play a game on this outdoor rink?'" Bradley said. "Why not extend this event and involve as many community members as possible?"
Of course, such an undertaking requires a lot of time and energy. It all began in 2017 when Maverick Men's Hockey coach Darren Blue called David Wittenberg, a passionate Maverick Hockey fan, to suggest Mankato throw its hat in the ring for being a host city. While not sure exactly what he was getting himself into, Wittenberg was excited about the idea.
"I had seen what Maverick hockey did to keep the vibrancy in the city center of Mankato until the community could redevelop downtown," Wittenberg said. "We felt Mankato was the hotbed of hockey in Southern Minnesota, and the Maverick men's hockey team had put us on the national map as well."
After years of meetings and extensive pitches with the Wild and Bally Sports North, the local planning committee finally won the bid in 2019 to host Hockey Day Minnesota 2021. (Because 2021 could not take place due to the COVID-19 pandemic, Mankato instead hosted in 2022.)
Once Mankato was announced as the next host city, the efforts of Bradley, Wittenberg and the rest of their committee turned to fundraising. But since the cost of building multiple outdoor ice rinks (plus locker rooms, bleachers, a jumbotron, warming areas and much more) added up to hundreds of thousands of dollars, the HDM Mankato committee quickly struck a partnership with Mankato Area Foundation to tackle the daunting task. MAF served as the event's fiscal sponsor, handling all the back office work and managing the finances.
"I don't think any of us realized how big it was going to get and the sheer volume of money coming in and out," Bradley said. "The Foundation made everything seamless for us, and it worked so beautifully to partner with such a well-established and respected community organization."
When the week of the event finally arrived, youth hockey players from across Southern Minnesota donned custom jerseys and faced off on the temporary professional sheet of ice. Each MAHA team played a different regional foe, bringing hundreds of players and families into Mankato for an unforgettable experience and one that was well-documented by many parents' Facebook pages.
"To see the faces of everyone—from these little kids to the MSU hockey teams—they were universal," Wittenberg said. "Everyone had the same type of smile. You could tell people were truly having the time of their life."
In addition to MAHA and local high school players taking to the ice, the committee secured a commitment from Minnesota State University, Mankato's men's hockey team to be the first Division I men's team to play outside on Hockey Day for a nationally televised game against the University of St. Thomas. Other special events throughout the week included "Hockey for Her," a day dedicated to girls' and women's hockey; events raising money for local nonprofits; games featuring local "celebrities," live music and more. All in all, more than 22,500 people crossed through the event gates, with tens of thousands more watching the official Hockey Day Minnesota broadcast on Bally Sports North that Saturday.
"It was a big coming out party," Wittenberg said. "[After the effects of the pandemic] people were starved for those types of activities to get together."
The goal of Hockey Day Minnesota has always been to celebrate and grow the game of hockey across the state, and the local organizing committee in Mankato took that to heart. All the money raised to put on the event was sourced locally and stayed in the community. When all was said and done, the committee netted about $550,000 in revenue and knew exactly how to put it to use.
First, $99,000 was donated to Minnesota State University, Mankato, for its massive role in hosting the event on its grounds. Next, a $450,000 permanent fund was created at Mankato Area Foundation to achieve the goal of growing the game of hockey in Southern Minnesota. The local organizing committee has now transformed into a granting committee, and they will work alongside the Foundation to accept applications and disperse grants that align with their goal.
"When we were pitching the Wild and Bally, it was all about growing the game," Wittenberg said. "Our goal remains to make a strategic investment in growing the game of hockey here locally and regionally, and we're really excited about how that can play out with the help of the Foundation and the community."
According to Nancy Zallek, president and CEO of Mankato Area Foundation (and long-time hockey mom), the excitement is mutual.
"This committee is made up of some of Mankato's strongest business leaders, and they gave a gift to the community by bringing Hockey Day Minnesota to our backyard," Zallek said. "Now, even though the event itself is over, this will be a gift that keeps on giving.