Welcome to the second installment of the Everyday Philanthropist. This month we look at philanthropy through the eyes of a financial advisor. Matt Norland, a wealth advisor with Meyer & Norland Financial Group, shares how philanthropy can be an integral part of his work with clients.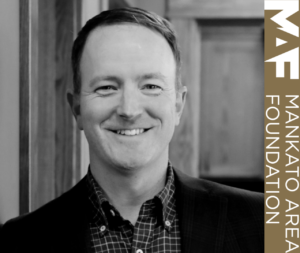 At MAF, we believe that anyone has the ability to shape their community for good and experience the joy of giving. Please sit down, get comfortable and enjoy this issue of the Everyday Philanthropist—we're delighted to share it with you!
"Matt Norland on Financial Advisors Utilizing Philanthropy"
Matt Norland is a CERTIFIED FINANCIAL PLANNER™ professional with an independent wealth management firm serving a select group of investors throughout the United States. Matt specializes in wealth management for individual investors and is an active volunteer serving numerous community organizations in the Mankato area.
How does philanthropy play a role in financial advising?
Our clients will often share a wide range of personal and financial goals during a review conversation. Often, past charitable giving, volunteering or future charitable intentions will come up. One of my goals as a financial advisor is to serve as a trusted professional by first listening, then offering thoughtful and objective advice to help support our client's goals. After we agree upon a financial plan that supports their desired manner of living, philanthropy can be the fun part. For those who value charitable giving, it really is rewarding as an advisor to help a client achieve those goals and then witness their hard work make a real difference in areas that are meaningful to them.
In practice, how do options like the Investment Partners Program at Mankato Area Foundation (MAF) help you and your clients?
Our business is based on relationships and trust. We are always transparent; our clients can choose to fulfill their charitable desires through any organization they wish. Once we have developed a trusting relationship with our clients, a program such as the Investment Partners Program at MAF works as a win-win situation in many ways.
Once we have developed a trusting relationship and our clients appreciate the value we add through investment management and proactive client service, they can choose to maintain that relationship while pursuing their charitable goals. Through the Investment Partners Program, we can continue to serve as their trusted financial advisor and manage the assets while working with MAF who has the local expertise and community knowledge. Clients can continue to choose the organizations or programs they want to support with the added value and personalized service through MAF. Their team really knows our community and can match donors with organizations that align with their passion for making a meaningful difference.
How do you know if someone is charitable?
I love visiting with people, asking questions, getting to know who they are, where they're from, what they enjoy doing in their free time, what's important to them, where they spend their time, what's their typical day like, etc. Clients will typically share clues during a conversation that will indicate if they're charitable. Of course, if you are reviewing their household budget, it may be very clear that they are giving to various organizations. Or they may ask a question that will spark a conversation on giving or taxes. Each conversation is different; however, I have found charitable people are often happy or proud of the good work they are doing. They want to share it.
Share something surprising about your experience with MAF.
I am sure you have heard the saying, it's important to practice what you preach. Before working with existing clients through the Investment Partners Program at MAF, I decided it was important to open my own donor advised fund through the foundation to have first-hand experience working with the program and MAF. I quickly found the process to be easy, comfortable, rewarding and fun.
Why is giving back important to you?
I am grateful for so many things in life. Giving back is important to me for many reasons starting when I was still in school. I watched my parents emphasize the importance of giving back and volunteering in our community. That is what we do. If you have been blessed with the ability to give back to those in need, you do it, and often times you will find it just as rewarding to those who benefit from that gift. Giving back also helps keep our community strong in so many ways. I believe we have a community that cares, and I want to be one of the many leaders in our community making this a great place to work, live, and raise a family for this generation and for many generations to come. Investing back into our community creates a lasting legacy of making a meaningful difference and a wonderful place to call home.
What is your favorite gift initiative?
I serve on so many committees and boards; it is difficult to choose a favorite. However, I would say one of my favorite projects the MAF supports is Kiwanis Holiday Lights. The Foundation has been extremely supportive since the very beginning and continues to be a loyal presenting sponsor. The annual event is a celebration of holiday lights and brings so much joy to people while collecting food for area food shelves. Area volunteers from businesses and nonprofit organizations come together each year to work on a common goal of making the holiday season just a little brighter for everyone. Now, that is a great example of how giving can do so much good.