Welcome to the Everyday Philanthropist! This is a place for us to share stories through the eyes of our supporters, partners, volunteers and fellow nonprofit organizations. We hope that you feel like you're sitting at our kitchen table—comfortable and at home with us. There was a time when the word "philanthropist" was synonymous with elite individuals, and only those with the capacity to make a large gift could make a difference. We believe that anyone has the ability to shape their community for good and experience the joy of giving.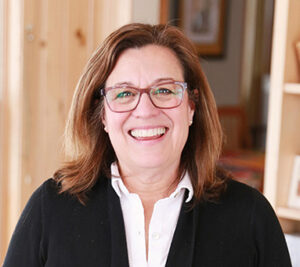 Please sit down, get comfortable and enjoy the first installment of the Everyday Philanthropist. We're delighted to share this with you.
Everyday Philanthropist: Kristin Weeks-Duncanson, MAF Board Chair
Kristin is the co-owner and partner at Highland Family Farms in Mapleton, MN. She and her husband, Pat, raise corn, soybeans, rye, oats, specialty corn and hogs with a commitment to a triple-bottom-line approach: economic profitability, environmental sustainability and community engagement. Kristin shares how her involvement with the Mankato Area Foundation (MAF) expanded from donor, to fund advisor, and eventually…to board chair.
How did you first get involved in MAF and its purpose?
Our family has always made giving back to the community a priority. Throughout the years, we found a myriad of nonprofit organizations doing great work that needed volunteers and monetary support to carry out their missions; however, it was time for us to create a plan so that our gifts were strategic financially and, most importantly, impactful to our community. We had heard about MAF before and did our research about the organization. After meeting with the President and CEO, Nancy, and discussing various options, we determined that a donor advised fund at the foundation was a perfect fit for us.
What is a Donor Advised Fund (DAF), and how does it work for you?
A donor advised fund is an account held at MAF where we can contribute our philanthropic dollars and decide later which nonprofit organization or initiative we want to support with a grant. The great part of working with the foundation is that they ensure the recipient is a qualified charitable organization and they provide us with reports to track our giving. They are also incredibly knowledgeable about the needs and opportunities facing our region. Pat and I appreciate the guidance they can provide so that our charitable giving is more effective. Additionally, our contributions to MAF have tax benefits, just like other charitable giving vehicles.
Because we farm, we can also use grain to fund our giving. We donate the crop to MAF, who then sells the grain, and the proceeds are used to populate our donor advised fund. We also receive a tax benefit in the same way as a monetary donation.
What inspired you to give your time and join the MAF Board?
I feel very fortunate to serve on the MAF Board. It's a diverse group of individuals who are passionate about making an impact on the community in many different and enduring ways. Being a part of the foundation makes you aware of so many great stories of their involvement in this community throughout the years. I don't think people realize the extent that MAF has touched their lives in one way or another just by living here.
Share something that surprised you with your work at MAF.
During COVID, when so many things were unknown, the number of people who stepped up and supported nonprofit organizations and initiatives to help people through difficult times was inspiring. These were not just the "usual donors" but many, many others who recognized the needs of our community at that time. We witnessed not only the generosity of this community but the strength of collective giving for the greater good.
What is your favorite gift or nonprofit?
Our family is passionate about organizations addressing food insecurity, and our life's work is in the food and agriculture industry. For us, work and passion entwine together with our commitment that no table goes empty.