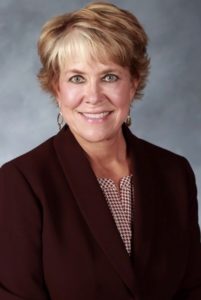 MANKATO, MN (August 25, 2017) The Jonathan Zierdt Cancer Fund (JZCF) of the Mankato Area Foundation (MAF) announces that Tami Paulsen has been hired as the fund's part-time Director.  The decision comes as the JZCF's Executive Committee called for the hiring to help launch and guide the newly established Donor Advised Fund of the Mankato Area Foundation.  The JZCF was established earlier this year by Jonathan and Ginger Zierdt and a guiding coalition of engaged community leaders to build community cancer awareness and support.
"Tami's business, marketing, fundraising and philanthropic experience, deep community connections and passion to help change the cancer journey, make her uniquely and exceptionally qualified to assist the JZCF during this critical ramp up stage and beyond" said Jonathan Zierdt, the fund's founder.  "I am thrilled she will now be working with the Foundation to champion our cause."
Paulsen has over 35 years of professional business management and marketing experience.  Prior to taking on this new role, she was Director of Business and Marketing for Paulsen Architects and then Director of Marketing and Public Relations for ISG.  In addition to her business background, Paulsen has substantial experience working with community and non-profit endeavors.  She has served as member and leader of multiple boards including Mankato YMCA, Minnesota State Mankato Foundation, Minnesota Chamber of Commerce, Greater Mankato Area United Way, Greater Mankato Growth, and the City Center Partnership.  She has also led and helped launch important community initiatives such as Envision 2020 and the CityArt Walking Sculpture Tour and chaired multiple community fundraising campaigns and projects.
"I am very excited to have the opportunity to help lead the JZCF and work to change the cancer journey.  This cause is very close to my heart having lost both my parents to cancer and seeing many good friends, like Jonathan, diagnosed and living with the disease. Those of us involved with the JZCF believe it is vitally important to build awareness and support those in our community affected by cancer, including patients, family, friends, and caregivers. I can't imagine more meaningful or important work," said Paulsen of her new role.
"When Jonathan and Ginger established the JZCF with the Mankato Area Foundation, we knew it was going to be exciting to watch" stated Nancy Zallek, Executive Director of MAF.  "Jonathan's willingness to share his journey publically has clearly touched this community.  JZCF immediately had a broad base of support and overwhelming enthusiasm for their mission.  For that reason, the Foundation also felt this fund would best be served by dedicating a staff person to capture that momentum.  We are so fortunate to have someone with Tami's expertise and community knowledge join our team!"
About the Mankato Area Foundation
The Mankato Area Foundation is a donor-driven community foundation whose purpose is to improve the livability in our region. Our Community Foundation connects donors with causes they care about, provides funding to address key community objectives and convenes individuals and organizations to find solutions to local challenges.
To learn more about the Mankato Area Foundation and how the organization makes an impact in this region visit www.mankatoareafoundation.com or visit us on Facebook.