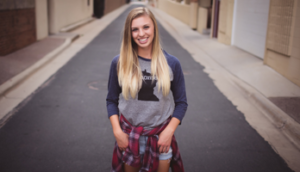 McKenna Buisman
Taking it to the next level with the Marlyn H. Heintz scholarship
SINCE ITS INCEPTION, THE HEINTZ SCHOLARSHIP HAS BEEN AWARDED TO 28 DIFFERENT YOUNG WOMEN.

When Marlyn Heintz passed away in 2008, her husband Max wanted to find a special way to honor his beloved wife of 62 years. But he struggled finding the perfect way to recognize what she had meant to him and to her children. Finally, someone recommended he ask the Mankato Area Foundation for help. Perhaps they would know of a project or program that Marlyn would have liked, the friend suggested.
Max decided to follow that suggestion and meet with MAF President and CEO Nancy Zallek. As he reminisced about Marilyn's life he told stories about how she was constantly learning—often challenging social convention. Growing up in the 1940s, Marlyn did not have the same educational opportunities as her brothers. At the time, families often educated their sons, but their daughters didn't always have the same chances. Consequently, Marlyn never went to college and Max explained that this was her life-long regret.
"And you know, that always made her really mad," Max said.
After this conversation, Max decided to establish a scholarship fund that would help young women accomplish what Marlyn was never able to achieve—a college education. The Marlyn R. Heintz Scholarship Fund of the Mankato Area Foundation was established in 2010 and annual awards are made to young women graduating from high schools in Mankato, Minnesota or Watertown, South Dakota—where Max opened his first car dealership.
Recalling that meeting, Nancy Zallek said, "I had so much fun working with Max and finding the perfect way he could honor his wife. My favorite part was telling Max each year who had received Marlyn's scholarship. He would tear up and tell me, 'Marlyn's looking down and she's proud of me, Nancy!' And I am so pleased that the Foundation could help him honor the memory of his wife for generations to come."
Each year, a number of outstanding young women receive Marlyn R. Heintz Scholarships. McKenna Buisman from Mankato West High School is one of four women who received that honor in 2018.
McKenna graduated with a long list of accomplishments. Stellar in the classroom and in the community, she was an officer of West's Key Club (a group dedicated to volunteerism in the community) and played soccer at the varsity level for five years, leading the Scarlets to three state tournament appearances as captain of the girls' team. As a senior, she earned the "Ms. Soccer" award for Minnesota Class A teams.
This year, McKenna is taking both her academics and her athletics to the next level at the University of Minnesota. She was able to get a head start on her studies in the Carlson School of Management and as a player for the Golden Gophers women's soccer team by entering the university in January 2018. "Graduating early was an extremely difficult decision," she says, "but I knew that, as much as I had enjoyed high school, I really wanted to focus on the next chapter in my life because that would set me up for my future. It was hard, but I am happy with my decision."
McKenna was excited to find the Heintz Scholarship on West High's Naviance website, and after hearing the history behind the scholarship, she is also very appreciative of Max's decision to help local young women make college more affordable. Although Max passed away in 2016, the Heintz Scholarship has left a legacy in the community by helping to educate 28 women since its inception.
This year, the Marlyn R Heintz fund awarded $15,000 in college scholarships. Each recipient demonstrated academic excellence during high school, in addition to excelling in a variety of extracurricular activities. Max's desire to honor his wife by supporting higher education for women benefited students from four different high schools. In addition to McKenna from Mankato West, Mankato East graduate MacKenzie Gleason, who exemplified love of theater, music and commitment to volunteer opportunities during high school, received a Heintz scholarship and is currently attending Vanderbilt University; scholarship winner Elizabeth Benzmiller, a Loyola graduate who demonstrated a love of music through involvement in band, choir, and as a liturgical cantor, is attending South Dakota School of Mines. Finally, scholarship winner Hali Erickson of Watertown, South Dakota, is attending South Dakota State University; she was the editor of her high school yearbook, an active volunteer through the school's Key Club, and a member of the Spanish Honor Society (she also speaks Finnish!).
Marlyn was frustrated by the glass ceiling imposed on her educational opportunities. Through the Heintz fund, she and Max are changing the script for today's young women.